Skin Game by Jim Butcher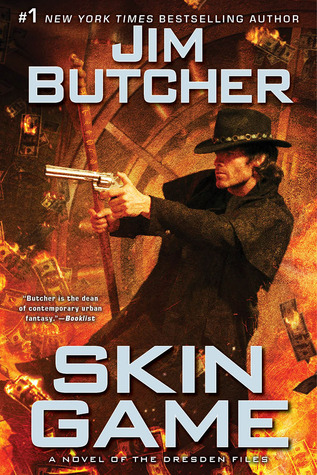 Have you ever wanted to read a book so much that you purposely avoid starting it? I finally caught up to the end of the series currently and I just didn't want it to end. Now I have to wait for the next book and I just don't know what to do with myself. I not only dragged my feet starting this book but I also took my sweet time reading this so I didn't get to the end. Jim Butcher has created these characters that when I pick up a book I feel like I am visiting with old friends. I get so wrapped up in these fictional characters that I cheer for them when things go their way and cry with them when they don't. It is ridiculous and crazy to get so wrapped up in people who are not real and only exist in the mind of a great writer.

This book is no different that any other Dresden book. When it seems like things can't get any worse for Dresden it does. Harry is ordered by Mab for his next job and it happens to be working for one of Harry's most hated nemesis, Nicodemus. If that isn't enough he also has this thing in his head trying to get out and he has three days before it kills him. Now to add insult to future injury, the job he has to do for Nicodemus is robbing the king of the underworld himself. Hades. Harry will have to work with a team to steel the Holy Grail.

As I had mentioned earlier I love these characters. This book brings some of the best qualities of each character and then enhances them to make these people even better. So many great scenes are in this book. There are moments in this that had me crying, cheering, and clenching my fists in anticipation. So many times I stopped what I was doing completely to listen to what was going on with rapt attention. My wife and I listen to these books and we love them. James Marsters reads these books. For nerds like myself I would say he is best known for his role in Buffy the Vampire Slayer. His voice is perfect for Harry Dresden. I've tried to read these on my own but even in my head now I hear his voice. This has been one of the best reading journeys I have been on in awhile and I am so sad to finally be all caught up. Now like every other fan of these books I have to wait anxiously for the next book. I'm already considering pre-ordering the audio book so I don't have to wait to start the next one.

I lived this book and believe me I could go into a ton of different things that I loved but I really don't want to spoil a single moment of this. In my last review for Cold Days, I said that book was my favorite in the series so far. Well here it is just over a week later and I am proudly shouting that this is my favorite book of the series. Everything about this book was so good. I already want to re-read this to see if I missed anything. Easily this is a 5 out of 5 star read. Here is the catch though, this wouldn't have been a 5 star read had I not read the whole series. The story is great and stands on its own fairly well, but if you have never read any of the books you will be missing some of the best parts. Growing with these characters is what I look forward to in each new story.