Harry Potter and the Goblet of Fire by J.K. Rowling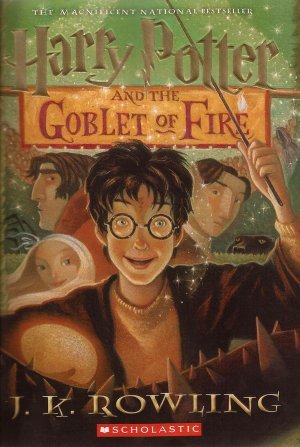 As I said before this is a re-read for me. My wife and I are taking turns reading these books to my 6 year old and he loves them. We always read the book first and then let him watch the movie. This was a long book and it took us quite awhile to get through this. I have to admit that I am really enjoying re-reading these not just because this is quality time my wife and I get with our oldest, but also that it has been quite a few years since I have read these books. I have forgotten a good bit of these books so at times it is like reading it for the first time again. I do love seeing the look on my son's face as he enjoys these for the first time.

So what happens in this book? This book starts off with the Quidditch World Cup which not only starts the chaos that runs through the book but also gives us a small introduction to one of the main characters Victor Krum. While at the match a group of evil wizards known as Death Eaters cause some fear and chaos and light the sky with the dark mark letting the world know Voldemort is gaining in power. Harry and the rest survive this event but not without being blamed for the dark mark's presence. Back at Hogwarts an old tournament is revived to help bring other schools together in this time of increasing dark.

The Triwizard tournament is a collection of 3 challenges done by 3 wizards and the one with the most points wins. In order to figure out just who will be competing between the 3 schools, they use the Goblet of fire. Each student places their name int he cup and it will spit out the 3 best candidates. This time something has gone wrong. Three candidates are chosen but then so is our Mr Potter. Harry is the 4th champion and someone wants him to die in this challenge. Harry now has to figure out what each challenge is, how to survive them, and who wishes him harm. All of this and hints of darkness are growing stronger.

I really like this book because there is so much that happens in this one. This book is really the beginning of the best parts of this series. Still, as much as I like this book the 3rd book Prisoner of Azkaban is my overall favorite. I give this book 5 out of 5 stars. This whole series is wonderful and I love every book in this. We have already started book 5 so eventually I will have that review up.