Green Lantern Vol 7: Renegade by Robert Venditti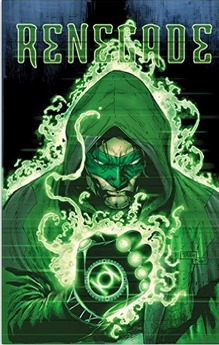 As I had mentioned in my previous Green Lantern Corps review I missed a volume in the series. The Corps are gone and only Hal is left. Apparently he has been de-ringed and is an outlaw now. Hal Jordan has become the most hated man in several galaxies. Without a ring Hal has stolen a gauntlet from the Corps and is trying to make up for all of the mistakes the Guardians have made as well as try to find the Corps.
I have to be honest, I am not liking the turn the Green Lantern book are taking. It really pains me to say this but I am anxious for Rebirth to happen already and we can kind of go back to the way things were before New 52 (Possibly). Hal is being chased by bounty hunters, space cops (not the Corps) and other thrill seekers looking to claim they have captured/killed the greatest Green Lantern.

Here is what I liked about this book. The artwork was solid and kept up with what I would expect from a Green Lantern book. We also get to see a more of a humble side of Hal. He is fine being the hated man that takes the blame for everything. I kind of got the feeling that not only was he stepping up to be the lone Lantern to be the beacon of good, but that he is also service a self imposed pence for all the Guardians have done. Maybe I just wasn't in the mood for this kind of story or maybe my confusion as to what all was going on due to my not reading Vol 6 caused me to sort of glaze over this but I really didn't feel like this had one dedicated plot line like they usually do. I kind of felt like since we know Rebirth is coming the writers are just trying to keep something in print till we get there. From what I have heard some of these existing story lines wont matter.

I could go on and on about this book but here is the long and the short of it. I enjoyed this because there was some good action in it and Hal Jordan is one of my favorite characters. If I wasn't such a fan of the series I don't think I would have enjoyed this. The art work was good, the next chapter in character development was entertaining. I give this book 4 out of 5 stars.