Star Wars: Dark Force Rising by Timothy Zahn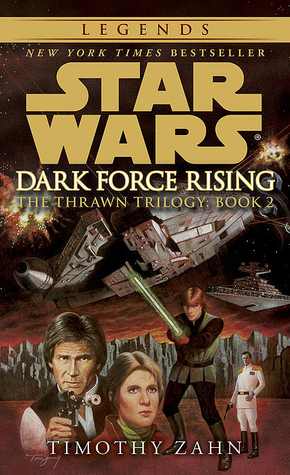 As I said in my review of the first book in this trilogy,
Heir to the Empire
, I have been caught up in the Star Wars Hype. Though sadly I still haven't seen The Force Awakens. I have already pre-ordered the movie on iTunes so I will have it on April 1st and as soon as it comes to the dollar show by me I am going to take my son and we will see it in the theater because I have seen all of the others in the theater I can't break that tradition now.
I really liked the first book and was kind of surprised at that. I'm not a huge fan of Star Wars but I got excited about the movie. I didn't expect to like the first book as much as I did but with this one I didn't know what to expect. Empire Strikes Back was awesome with some of the best action sequences and story reveals that are now legend. I really tried to not get my hopes up that this was going to bee the same but I was a little let down.
This is clearly a middle of the trilogy book. Not much happens and there really aren't any new revelations that shock the reader to their core. There is a pretty good space battle towards the end but otherwise it is just another mile in the road. The story is decent enough that I kept going and looked forward to picking up the book again, but I wanted more. The more I think about this book, the more I feel like this was just unnecessary. I felt like the author knew he was supposed to write a trilogy but only had enough great material for two and a half books so this just got drawn out.
I think what I liked about this book was just more of my favorite characters. It was familiar and what really drew me to read these books. This wasn't a bad book by any means and I did enjoy it even being a little flat. I am still glad I read this but I hope the last book in this trilogy is just amazing. I give this book 3 out of 5 stars