The Burning Room by Michael Connelly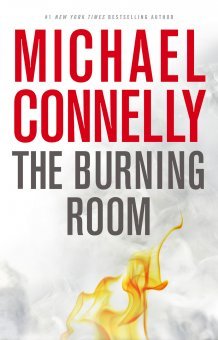 I have been a fan of Michael Connelly's for a ling time. I may not have been with him from the very beginning but pretty close to it. Harry Bosch is one of the best detectives I have ever read. Not as good as Sherlock Holmes and Batman but better than Sam Spade and that's saying something. Harry is part of the Opened Unsolved unit and always wondering if they will renew his contract or not. Now he has a new rookie partner and a case that drops into his lap so fresh the autopsy is being done as the book opens.
Harry has a new partner and when I say she's a rookie what I mean is she is new to the detective role but is a super cop from patrol. The hero of a shoot out she is promoted quickly causing some frustration among the rest of the department. Harry has everything stacked against him. So here is why this case if fresh and open unsolved. A Mariachi band member was a victim of what appeared to be a drive by shooting. Years later the bullet from the shooting is lodged in his spine and it has taken it's tole. Our victim has lost his legs, an arm and has been found to be the cause of his death. Now Harry and his new partner have taken the case from the original detectives and they are starting from scratch on an event that happened years ago.

In Bosch's investigation another old case pops up. This case is what the title refers to, The Burning Room. Bosch and Soto now will divide there efforts between their case with the dead Mariachi and this other one. I would explain more as to what the Burning Room is but I feel like it would spoil the surprise. I will leave this be for you to discover if you choose to read this book as it should be. I will say that I liked both cases and was always anxious to get the next piece in the puzzle.

Al that being said I do have to be honest. As much as I liked the story this book did kind of loose momentum. We get the answers early in the second half the pay off is how Bosch and Soto are going to prove this. It was an interesting twist on the mystery novel but it took away from that suspense that Connelly usually has racing through the ends of his Bosch novels. I can say there there is a small event at the very end of this book that makes me really want to read the next one but I have so many books on my to-read pile before I can get the next one. It is kind of driving me crazy. I liked this book but I am more excited to read the next book in the series than I was to finish this book. It saddens me to give this 3 out of 5 stars because I know Connelly is better than this. I just didn't enjoy this book as much as the previous ones.