2016 Goals and Best of 2015
Well I will be honest, one of my goals for 2015 was to set aside more time to read those hardcovers I love so much. That kind of fell through this year. I didn't get all the books read that I wanted to. I also had less movie reviews on my blog this past year. We went to the movies once or twice this year but I didn't review them. The only reviews I did were for my Halloween week so I have a few goals this year.
This year I want to get caught up on the Dresden Files series. It pains me to get caught up because then I have a wait for the next book but it will have to happen at some point why not this year. I also want to try to work in a re-read at some point. I have thought about re-reading The Dark Tower series this year just in audio book form. I have also wanted to re-read all of Jeffery Deaver's books but I just keep putting it off. Maybe this year I will at least start a re-read. This year I am looking forward to a bunch of DC Comics's movies as well as maybe doing a Christmas week this year on my blog where I review Christmas movies. My second goal this year is to get more movie reviews done this year.
Best of 2015!!!
This is one of my favorite posts I do. I love going over the books that stood out in my mind this year. I read quite a few great books so it was a tough decision to figure out which ones I wanted to feature.
I'm going to start off with a pleasant surprise. I had read one of Harlan Coben's books a few years ago and it was just ok. Then I had noticed quite a few of Harlan Coben's newer books popping up as giveaways on Goodreads. I didn't win but the summaries sounded really good. So I decided to read
The Stranger
. It was amazing, what if someone randomly came up to you and said, "Your wife, or Husband was cheating on you." What would you do, what would you think? That's what the stranger is all about. This man appears and tells our characters something about their life that shatters their world, and then he leaves. Leaving our characters to pick up the pieces and try to make sens out of everything. The story was so captivating and suspense full I couldn't quite reading this and when I did I couldn't stop thinking about it until I could pick this up where I left off. I highly recommend this book and would encourage you to check out my full review for more of my thoughts. You will not be disappointed. I got my wife to read this book and she loved it just as much as I did. It might even be her Book club pick next time she gets to choose.
My second pick of this year is going to be Stephen King's
Mr Mercedes
. I picked this as one of the best of 2015 because I was really impressed with the depth and suspense in this mystery. It may have taken me a long time to get through this book but is was only because of limited reading time. When my kids would let me read for a little while I would fly through pages because the story was just that good. I would get almost itchy waiting to be able to pick up the book again because I had to know what was coming next for Bill Hodges. There have been a lot of mixed reviews about this book. A lot of them are just crazy nonsense because King didn't write a horror story and they are really upset. Others like myself can enjoy a great character driven story and suspend reality just enough to enjoy this. It does read more like a pulp mystery than a standard horror novel. It was a great start to this Bill Hodges trilogy. I recommend this book to any one looking for a good mystery.
It was really though to come up with just Three books form my best of 2015. I could go on and on about all the 5 star reads I had this year and there were quite a few. A lot of them were comics and had great story lines. I'm going to go against my own rules and for my third selection I have to highlight the comedy books I read this year.
The Nerdist Way
by Chris Hardwick,
You're Never Weird on the Internet (Almost)
by Felicia Day, and
Furiously Happy
by Jenny Lawson were hilarious books but also thoughtful and at times Heartwarming. Chris Hardwick writes a self help book for nerds out there and how do deal with life in this crazy judgmental world. Felicia Day writes a memoir about her life and the challenges she faced as a female gamer. Jenny Lawson is so funny. Check out her blog
The Bloggess
for some great stories. I check her blog out when ever I am feeling a little down and she always makes me smile and laugh. This is her second book and it really delves into her struggle with depression and anxiety. I loved all of these books and also recommend these books any chance I get.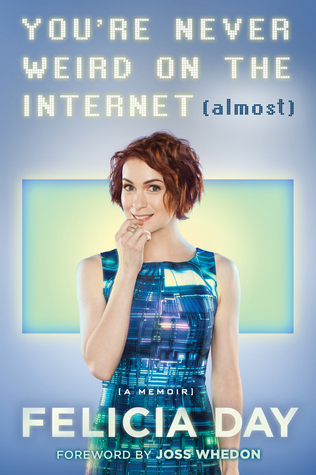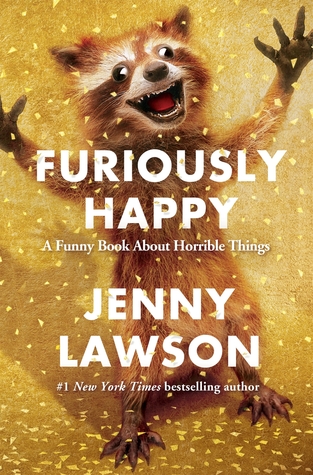 I always love doing my best of post every New Year so thank you for letting me go on about these books again and if you haven't checked out my reviews then please click the links to take you to them. Happy New Year!