The Aeronaut's Windlass by Jim Butcher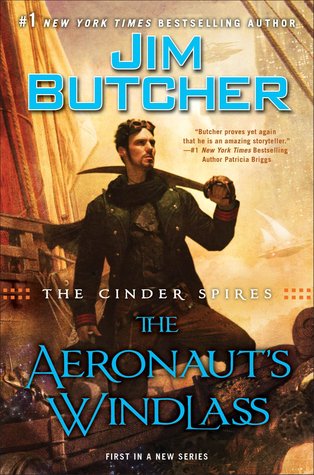 I really wanted to like this book. I tried and even re-read the beginning of this book three times because I was so lost with the point of what was going on with all of the characters that are introduced very quickly. I love Jim Butcher's Dresden Files and from what I have read about his he seems like a really cool guy. I also like the fact he is form Missouri.
I am not a fan of Sci-Fi and Fantasy books but I tried the Dresden Files and love the series so I was really looking forward to this book coming out. This book is kind of a cross between Firefly and Game of Thrones. I like both shows but I wouldn't want to read the, As a matter of face I tried to read Game of Thrones and couldn't stand it but that is a different review. I couldn't get into this book and I found that I was reading just to rad the book and not really retaining the information. By the end of the book I wasn't really invested in the story. It pains me to say these words about a book by an author I really like.

This is my review and my thoughts and opinions so I am not necessarily saying this is a bad book, it just wasn't something I enjoyed. I know this genre isn't something I normally read but I had hope Butcher would surprise me again. I wish I had more to say about this book but I don't. Most of this book I have already forgotten because I was barely paying attention. The characters were kind of forgettable except for a talking warrior cat that was just weird. I didn't understand the importance of his character at all. I hope if you are a fan of these kind of space fantasy novels you enjoy it more than I did. I think I will stick with Dresden and don't think I will continue with this series when the next book is released.

As I had mentioned I am really sad to have to rate this book so low but I didn't like it. I give this book 2 out of 5 stars. It wasn't the worst book I have read but I struggled to get through this.