Furiously Happy by Jenny Lawson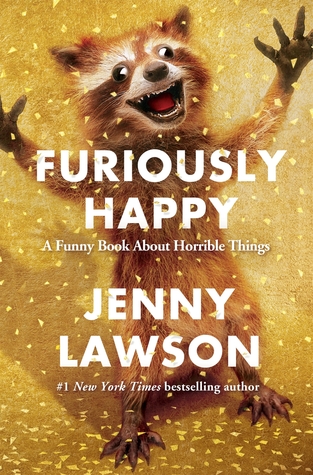 I had never heard of Jenny Lawson also known as
The Blogess
until her first Book Let's Pretend This Never Happened won best comedy book in the Goodreads Choice award in 2012. I figured if it had that many people vote it the best I should give it a read. That book was hilarious and I was snorting out loud I laughed so hard through the whole book. I kind of expected the same thing with this one.
Jenny Lawson is so funny and there are some great stories that had me laughing my head off but this book has a much more serious tone to it. Jenny Lawson suffers from severe depression, anxiety, and ADD. She is the first one to poke fun at herself about this but she also had some very sad things that she deals with one a daily basis. I'm going to be honest with you all and say that I suffer from anxiety. have been medicated for a little over two years now and I'm doing pretty good. I'm going to try to either scale back my medicine or get off it if I can.
I am no where near as serious a case as some other people I know and even then I am a 16th of what Jenny Lawson deals with. This book is all about her struggle and how she deals with these issues. This is a great book for anyone who suffers from these kind of disorders because it is proof that those who suffer are not alone. There is help out there and nothing to be ashamed of. I hid the fact that I have been on medication because I was embarrassed. I felt that I couldn't handle my emotions and this was giving up. I came to terms with my issues and ever since I have grown stronger if that makes sense. Jenny Lawson does a great job making me feel better about myself and my situation, not just because she is suffering more than I am but with all of the encouragement she gives in this book.
Aside from all the take about her disorders she tosses in stories that have happened in her life and even arguments she has had with her husband. I follow her blog
The Blogess
so a good bit of these stories I had already read before. Now I listened to think in audio which I love. Jenny Lawson of course reads her own book and that is the best part. Being able to hear exactly how she meant the words to sound is so much fun. The one thing that I missed from having the audio book version is the pictures that she includes in the book. She explains what the pictures are so we the listener has some idea of what is going on. To make up for it Jenny did include a bonus chapter for the audio version so ha.
This was a great book and again I will highly recommend this to anyone who suffers from Depression or anxiety or both. She is insightful, sweet, and just hilarious in this book. I have to say that after reading this book I feel pride, and concern for her darker times and I have never met her and she has no clue who I am. The way she writes in both of her books its like she is talking with good friends and we the reader are those friends. It is an easy decision to give this 5 out of 5 stars.