Hell House by Richard Matheson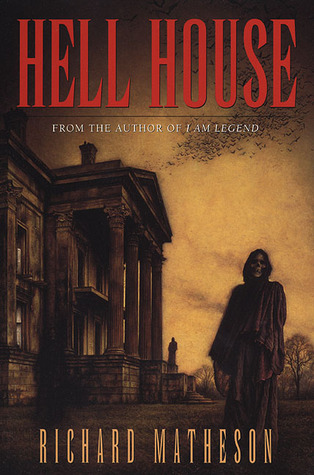 I have heard some great things about this book and it is one of the horror classics. I finally got around to reading this one and I am glad I did. I have seen some of the movies that are based off of this book like House on Haunted Hill and I have been itching to read this. Now the book is very different from the movie but there are little bits from the book slipped in from time to time.
When I first started reading this I felt like it was very similar to The Haunting by Shirley Jackson. I'm not sure which came first to be honest but I read The Haunting years ago so I compared this right away. The book starts out slow but I was interested in what was going on. A wealthy magazine and newspaper publisher is desperate to learn the secrets of the Belasco estate so he hires a team of experts to figure out what is haunting the old place. Each person gets a hundred thousand wach if they can figure out and stop what is going on.
This is a classic and not something that is going to rely heavily on gore or intense psychological suspense to carry the story. This book is highly character driven and plays on the little things that may not scare us, but these things might make us feel a little uneasy when all the lights are off. I didn't expect this book to be terrifying but I was hoping for a little more that would send chills up my spine while I read it.
I might be a little down on this book but only because I want to convey that this isn't IT or The Shining. It starts off a little on the slow side but Matheson does a great job of giving the reader just enough to keep their interest. The best part of this book is the last quarter of it. If you can hang in long enough to get to the end you will not be disappointed. Wen I got to that point I didn't want to stop reading. It wasn't all that scary but a very well written story. There is a bit of mystery behind what is going on with the house.
I liked this book even if it wasn't exactly what I was expecting. I was really hoping for a book that was going to send me diving under the covers to shield myself from the ghosts. I give this book 4 out of 5 stars and I am so glad I got around to reading this finally. This book will be included in my R.I.P. challenge. This will be my 4th book which completes my pledge for Peril in the first. I may have completed my pledge but I'm not stopping there. I have plenty more novels I want to read for this challenge. Tis the season to be scary right.