Harry Potter and the Chamber of Secrets by J. K. Rowling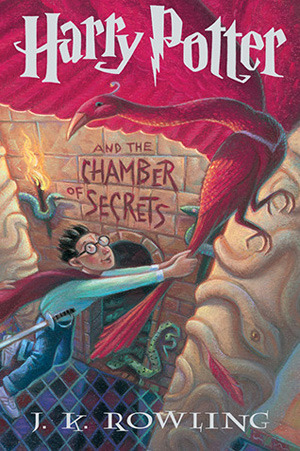 This is the last of the Harry Potter books I haven't read. I was a late comer to the series for my own reasons. I bought the 5th book on the day it came out as well as 3 and 4. I started at book 3 since I had seen the first two movies I figured I was good. My wife is currently reading all of the Harry Potter books to my son as part of his bedtime routine so I sit and listen too. So now I can happily say that I have finally read all of the Harry Potter books. I have never written reviews on any of these though so this is a great opportunity to write up a review as we re-read the series to my 5 year old for the first time.
This is a fun book and I liked it from the very beginning. Like every other book it starts with Harry living with his Aunt and Uncle anxiously awaiting his new school year at Hogwarts. I love reading just how horrible his Aunt and Uncle can be as well as their little brat Dudley. While in their home Harry meets his very first house elf Dobby who is warning him to not return to school because there is a great evil that will cause Harry harm.
There are some great characters that are introduced in this book. Some are fun to learn about and others are either really annoying or just infuriating. Professor Lockhart is the new defense against the Dark Arts teacher as well as the resident celebrity. This character is so full of himself that I hated him right off the bat. We also meet several new students at Hogwarts but none is more annoying than Colin Creevey who walks around with a camera taking pictures of everything. With the introduction of Dobby the House Elf we also get to meet Draco's father who is a real piece of work himself. I can see where Draco gets it from.
There are so many great things about this book but the big mystery is what is exactly in the Chamber of Secrets and where it is. Something is petrifying students at Hogwarts and something has to be done before one of them ends up dead. Harry and his friends are doing everything they can to get to the bottom of this.
There really isn't a bad book in this series so I gave this book 5 out of 5 stars. I am anxious to see how my son likes the next book and I will keep writing my reviews for the first time to help keep these books fresh for me.