Batman and Robin Vol 5: Big Burn by Peter J. Tomasi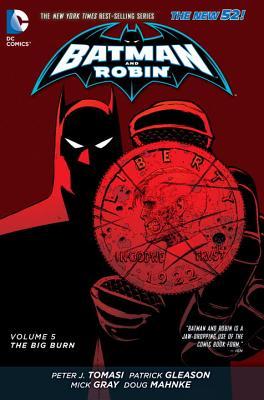 It has been awhile since I have read a good Two-Face story. My favorite is still Face the Face which is where Harvey Dent has had surgery to heal his face and he is whole once again. The challenge then becomes is Two-Face really gone now that the scaring has healed? It was a pretty good story. In this book we get a little history lesson about Harvey Dent and I really liked it. We get to see how he became District Attorney and the New 52 twist on how he became Two-Face. There is even a little history about Bruce and his relation ship with the now head of a crime family.
Two-Face wants revenge on the woman who killed his wife right in front of him before turning him into Two-Face. The woman is in town to kill Two-Face and tie up loose ends and Batman is stuck in the middle.

I liked this book but compared to the last couple volumes I read this wasn't as good. I am always happy to have a good Two-Face story and this delivers. I give this book 4 out of 5 stars. There is one little thing at the end of the book. It is a single issue about Dick Greyson's first week as Robin. It is a great, well written story that is heartfelt and perfect to end the book with. This was actually my favorite part of the book. This is part of the reason this book didn't get 5 stars. I liked the single issue toss in better than the main story of the book. Still, this is worth reading.