The Regulators by Stephen King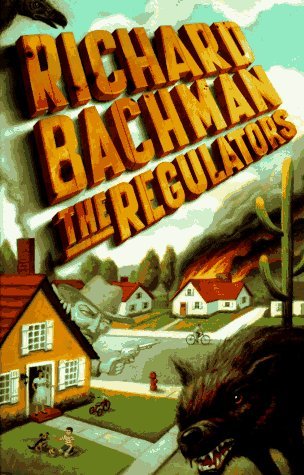 I wasn't all that impressed with Desperation but I had heard that this book was similar so I wanted to see what it was all about. Fist let me say that this was an interesting book from the standpoint of how many other books have influenced this or were influenced by this book. There are aspects of the Shining, Under the Dome, Desperation, and the western feel at times can be reminiscent of The Dark Tower but that is kind of a stretch.
Tak is back but this time he has left the confines of the town of Desperation. Here is the thing that really drove me nuts for the first few chapters. Having read Desperation I know most of these characters already except they are not the same. This is hard to explain without giving something away so I will just say it is an adjustment. This is a completely different story from Desperation and I went in thinking this would be a sequel. That was my mistake. If you are reading this and you want to read this book don't make the same mistake I did. Go in knowing it is a different book, The names are the same it was the character who were changed to protect the innocent.
This book revolves around a town being plagued by strange killers. The people of this town are trapped in their homes trying to not be "Regulated". Tak, the evil being from the mine in Desperation is now tormenting these poor towns people. Here is the link to the Shining. Our story revolves around a little boy who is Autistic and he can sense things. Possibly has a touch of the shine in him. This little boy Seth just loves his cartoons and westerns but will become the pawn in a gruesome turn of events.

I liked this book more than Desperation but Only a little more. I have been thinking about this review for a few days and I even tried to take notes while reading and I really have nothing more. This is a 3 out of 5 star book. I rounded down on this but since I did like this better than Desperation I would give ti 3.5 stars.