New Suicide Squad Vol 1: Pure Insanity by Sean Ryan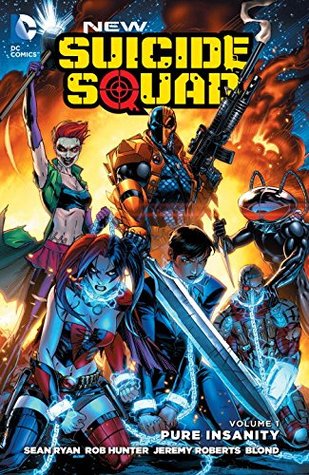 I have been very fortunate to get picked for some really great books by DC Comics through Net Galley. When I saw they were doing a new version of Suicide Squad I had to check this out. I haven't read any of the books so far and I have always thought I would catch up on those at some point. With the new movie coming out next summer I wanted to start getting all of the information I can in case there are holes in the movie story that I will want answers to.
This book begins with some major issues for the team. There is a new boss in the office who is calling the shots and not very well. We also see the addition of Black Manta and Joker's Daughter join the team which causes some obvious tension. Sent to find out what the Russians are planning they are blindsided by robotic soldiers called Rocket Reds.


While running for their lives our squad gets split up. Deathstroke is taken to someone who wants to offer him a job, while Deadshot is taken prisoner and tortured for information. This is what I was waiting to read. I read
Deathstroke Vol 1
and was a little lost because I didn't know this is everything that happens before Deathstroke Vol 1. So if you haven't read either of these books yet read this one first.
This book was really interesting and I am hooked on this series. I had a few moments of boredom but they didn't happen often. The art work and story were very well done. Some of the covers were really cool. This one on the right here is my favorite. I love all of the detail that went into this. You can see the empty shell casings falling out of the guns. It even manages to make Black Manta look cool which is impressive. His character was one of my favorites in the book but I just can't get over how ridiculously huge that helmet it. So many jokes come to mind, but until New 52 Aquaman was the joke of superheroes and now he is one of the best series I have read recently. Guess I will have to see what happens with Black Manta as this series goes forward.

I will cut right to the chase. There are a lot of things I liked about this book but I felt this could have had a little more substance to the story. This is the beginning of a new story arch for these characters so there is going to be some development, but I have seen DC move a little faster. I really liked this and I can't wait for Vol 2 especially after reading Deathstroke Vol 1. I give this book 4 out of 5 stars and will say I am officially hooked on Suicide Squad.