Harry Potter and the Sorcerer's Stone by J. K. Rowling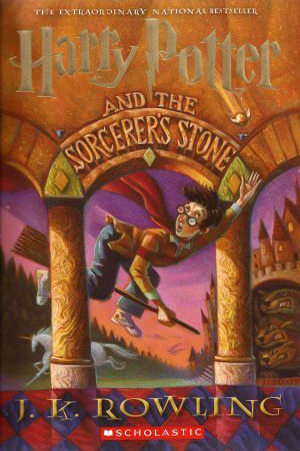 I'm going to start this post and review being honest. I rated this book when I first joined Goodreads in 2010 but I have never read this book and I had no idea until recently. My son is almost 6 and my wife has been dying to read these books to him for a long time. We decided he was old enough to understand them and really enjoy it. My wonderful wife has been reading this book to me and my son for the last month or so. We just finished reading it and of course watched the movie with popcorn and a non-alcoholic Butter Beer shared among the three of us. The best part of this whole experience was seeing the smile on my son's face and the smile on my wife's face when he would beg her to keep reading. It was amazing and I'm sorry it ended. We have 6 more books so i know I will enjoy this for quite awhile and then get to do this all over again when my daughter is old enough.
I didn't jump on the Hogwart's express until the 5th book came out and when it did I was working at Best Buy and we sold it. It was sold out everywhere but we had a ton because no one thought to look at an electronics store. I bought one and since I had already seen the first two movies I apparently started reading at the 3rd book. About a quarter of the way into this book I realized I didn't remember a lot of what was going on and more stuff from the made made sense.
If you have no idea what this book is about I would love to know how you avoided this. This book introduces us to a young boy, Harry Potter who has survived an attempt on his life and the death of his parents by a powerful evil wizard. Harry has just come of age in the wizarding world where he is ready for school to help him understand the magical gifts he has. We follow Harry and his friends through their first year at the wizard school of Hogwarts. There is a special item being protected at Hogwarts and someone is trying to steal it. Harry, and his friends are trying to figure out who is trying to steal the sorcerer's stone
This book is a little sluggish at the beginning and my son was having a hard time staying interested for the first few chapters but once the book gets going he couldn't wait till bedtime so we could read another chapter. This is a fun book and it not only sets up the series but has a great little adventure story to it. I give this book 5 out of 5 stars. I can't wait for us to get started on the next book. I never wrote reviews on these books so this is a good opportunity to do that.