Fool Moon by Jim Butcher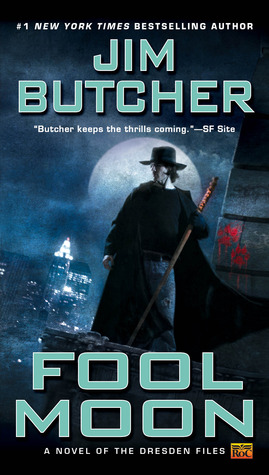 I'm on my short little re-read journey with the Dressden Files. I have only read the first 5 books in this series but I wanted to re-aquatint myself with these before I moved for ward since it has been a few years since I read these. Plus with my wife reading these it helps to keep a dialog going and remember what she is talking about. It is also funny to go back and read my review of these books on Goodreads. I have really come a long way in my reviewing. I'm not sure my old one made a ton of sense.
During any re-read I hope to pick up on some of the little things I might have missed the first time and enjoy it even more. I have to agree with my original review as well as all the others I had read. This was a pretty good book but not as good as the first.
Storm Front
really got me hooked on this series but this one didn't deter me from continuing on. If you can't guess it from the title this book is all about werewolves. Thankfully these are the violent tough werewolves of legend and not the emotional cranky shirtless kind ruined by Twilight.
Dresden is asked to help decipher some magic writings for a young wizard he sort of mentors. He holds a little back because he doesn't want this young wizard to get in over head messing with magic she shouldn't be. Well, that doesn't go well. The first Werewolf cursed by either Angels or the church as punishment. Dresden has to not only find away to contain this werewolf before he becomes a toothy killing machine as well as figure out what is causing the gruesome death's Detective Murphy has asked him to help with.
This book has also been made into graphic novels which sadly I have not read these yet. I actually think my next stop will be my library to see if they have these as soon as I finish writing this. I love the graphic novel versions of these books. It is really cool to see an artist's version of what they thought the book should look like. I think this is the last book that got the graphic novel treatment. Now there are several books that I believe are original stories for the comics.
I will keep the same rating as when I read this the first time. I give this book 3 out of 5 stars. As I said I liked this book but it wasn't a very strong story or book but I honestly love these characters so any book no matter how weak the plot I will just enjoy visiting with the characters. On to book three soon and I'm looking forward to the re-read as well.