Gotham Academy Vol 1: Welcome to Gotham Academy by Becky Cloonan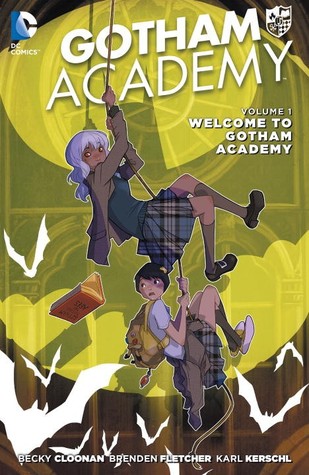 I don't know what to think about this book honestly. When I saw this I knew it looked a little young for me. That this would be geared to a younger audience but I have really liked Gotham on fox so thought this might be an origin story line. It isn't but what makes this interesting is that Bruce Wayne seems to know a lot about what's going on in this school so he and Batman pop in and out from time to time.

This book feels very much like a Scooby-Doo episode. Meddlesome kids are interested in a possible haunted wing of the school that has been shut down. There are all kinds of symbols and hidden passages in this school that only further deepens the mystery. The story on this was pretty interesting but there were times I felt it kind of lulled. Some cool guest stars in this book but I think I expected more.

The art work was pretty good. It doesn't change from what you see on the cover which is nice. I like consistency in a graphic novel. There are to many times during a story like this that artist change in the middle and it is usually not as good. I was allowed to read this by DC Comics and Net Galley. If given the opportunity to read Volume 2 I will. I hope that there are answers to several questions I have coming in the net volume. I am also curious as to the continuity with the rest of the DC Universe. There is a character that shows up in this book that shouldn't be there if this takes place at the same time as everything else. Also I want to know what is the back story to our heroin Olive Silverlock. I have no idea who her mother is but this book made it seem like I should know. I want to get some clarity there as well as whats with Olive herself.

So on to the rating. I liked this and found it enjoyable but even though I try not to, I tend to stack up all the Graphic novels I have read recently and this one is the weakest of what I have read. I will give this a middle of the road 3 out of 5 stars. Even as I write this review I am still unsure as if I really liked this and will add it to my reading list or if the fact this was underwhelming is going to cause me to part ways here. More to think on it seems.