Broken by Karin Slaughter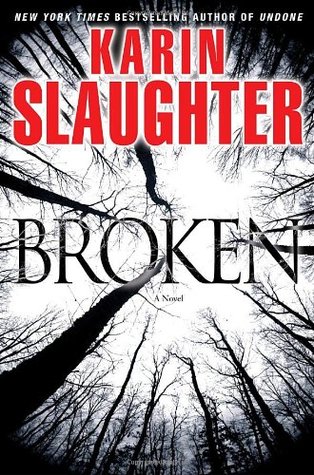 Well, I have finally read all of Karin Slaughter's books until the new one comes out. I am excited to finally have caught up and read every thing I had felt left out on, but sad at the same time. Going through this burst of books by Karin I had a lot of fun and now it seems like the party is over. Compared to the other books this one was pretty tame on the horrible violence.
This book does start off with a suicidal girl working up her mind to plunge herself into the icy river and drown herself when someone comes up behind her and kills her. Her last thought was that she wanted to live which was one of the saddest scenes I have read. Finally she figures out that life is worth living and it is taken from her. The whole situation when the body is found looks like suicide but an autopsy reveals a stab wound to her neck which wouldn't have come from being weighted down in the bottom of the river. All signs point to a mentally challenged boy who is arrested and charged with her murder. While in the custody of the police he commit suicide. This brings Will Trent into the investigation.
Not only is this a Will Trent novel but the murder and suicide are in Grant County, Sara Linton's old home. Sara has returned home to spend a little time with her parents and sister since she moved to Atlanta away from all of the painful memories of her dead husband. While she is home the acting Police Chief asks her to try and talk to the suspect before he kills himself but by the time sara gets there it is to late.
This was a great book, very well written and held my attention all the way through. The series starts as just a Will Trent series, but with each book Sara Linton takes a bigger and bigger roll in the stories and I love the pairing of the Sara and Will. In this book we also get Lena and Sara's former husband's son Jarrod. Not a lot of character development beyond what we already know, but the story overall was really well written. I have to say that Karin Slaughter is one of my favorite authors and when I had the pleasure of meeting her at a book signing I attended she was just as pleasant as I had expected.
On to the rating, this was a great book and I really enjoyed it. I do think there are better books in this series which is why I am giving it 4 out of 5 stars but this is still a great book. I would recommend this to anyone looking for a great suspenseful read but you really need to read the earlier book or this will spoil a few things for you if you decide to go back later.