Blue Lily, Lily, Blue by Maggie Stiefvater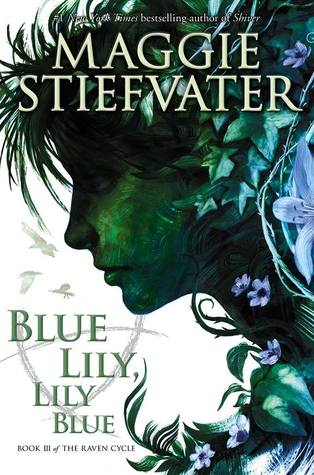 This is not usually the kind of series I would read but YA has kind of grown on me. My wife is a big fan of Maggie Stiefvater's and we saw her at a book signing a year or two ago. For me, meeting an author can really make or break a book. If the author is flat and lifeless I might not continue to read their books or not even try their work. Maggie was a lot of fun to meet in person and I became interested in reading her work.
I have enjoyed the Raven Cycle series but this book wasn't my favorite. I have very mixed feelings on this book which has caused me to struggle a bit about a review. I guess I will start with what I didn't really care for in this book. I felt like I was missing something through most of this book. I wasn't at all but I guess it seemed like there was a lot going on when there wasn't. Also, these little events would happen without any build, reason, or explanation which was frustrating. I ended up with more questions than answers which might have been intentional for the next book but I was just irritated. I also couldn't stand the character Adam. It was all a poor me bitch fest.

What I did enjoy about this book was getting to know Blue better. There is a lot to her story that still needs to be told. She is a very interesting character and this book gives just a little more to why she is the way way she is. Cryptic yes but I don't want to ruin anything in the book. This was an entertaining book and I did enjoy it even with my little frustrations.

Out of the three books this is my least favorite. I give this book 3 out of 5 stars because I'm kind of in the middle on this book. I am looking forward to the next book because I really want to see what comes next.