NOS4A2 by Joe Hill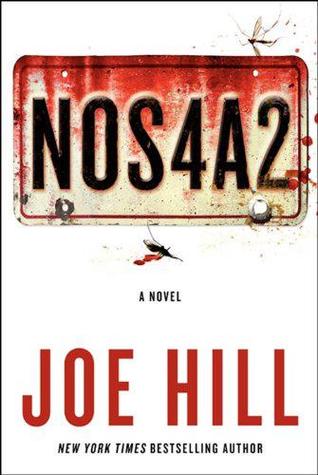 What is my deal this Fall? I have read one disappointing book after another with no end in sight. This book was kind of my fault in a way. I tried to read this right after it came out and couldn't get into it. I made it about a quarter of the way in and just gave up. I feel bad about not liking this in a way because almost everyone I know who read this book just raved about how amazing it is and Joe Hill is the new great writer of all time. I don't have a problem with Joe Hill. I loved his Locke and Key series as well as his novel Horns. I have not really been a far of the rest of his work. The issue is with me, I can't stop comparing him to his dad Stephen King. His writing is just different but I can't seem to separate the two.
This was another book that sounded so good from the summary but fell flat for me. Here is the Goodreads description:
NOS4A2

is a spine-tingling novel of supernatural suspense from master of horror Joe Hill, the

New York Times

bestselling author of

Heart-Shaped Box

and

Horns.



Victoria McQueen has a secret gift for finding things: a misplaced bracelet, a missing photograph, answers to unanswerable questions. On her Raleigh Tuff Burner bike, she makes her way to a rickety covered bridge that, within moments, takes her wherever she needs to go, whether it's across Massachusetts or across the country.





Charles Talent Manx has a way with children. He likes to take them for rides in his 1938 Rolls-Royce Wraith with the NOS4A2 vanity plate. With his old car, he can slip right out of the everyday world, and onto the hidden roads that transport them to an astonishing – and terrifying – playground of amusements he calls "Christmasland."





Then, one day, Vic goes looking for trouble—and finds Manx. That was a lifetime ago. Now Vic, the only kid to ever escape Manx's unmitigated evil, is all grown up and desperate to forget. But Charlie Manx never stopped thinking about Victoria McQueen. He's on the road again and he's picked up a new passenger: Vic's own son.
I already have a problem comparing Hill to his father and he has to go ahead and do this homage to his dad in this book. The book was basically a cross between Carrie,The Shinning, and Christine. We have a car that drives itself and holds the soul of Charlie Manx, and some telepathy that is similar to the Shine. I really tried to like this book, I wanted to like this. I just don't feel I should have to work to find enjoyment in a book.
There are plenty of good things about this book that at least helped me keep going. When we finally get to Christmas land the children who are there where really creepy. The descriptions we so detailed that I could see them in my mind as clear as if they were standing in front of me. The visuals of this book were really well done. Hill definitely has a talent for descriptions. He doesn't over do his detail making it redundant, but includes just enough to make these scenes so easy to picture.
Looking over reviews on Goodreads they are mostly 4 to 5 stars I have to give this 2 out of 5 stars. I just couldn't fully get into this one. I will be including this in my RIP challenge also. I really wish I had better reviews This year for the challenge but I only have had one book that I have read recenntly that was really good and that was
The Skin Collector
.