Injustice: Gods Among us Year 2: Vol 1 by Tom Taylor
I'm going to be honest here. I haven't read this series yet at all. I saw this on Netgalley and decided I was going to throw my name in for it and see what happens. Well, I was fortunate to be selected by DC to review this and I couldn't be more thrilled. I have hear a lot of great things about this series and I really have loved my Injustice game app for my iPad. The graphics and game play are amazing.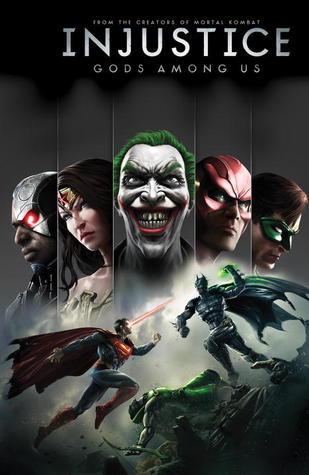 I have had the First Year vol 1 for my kindle for awhile but I just haven't' had the time to read it. After reading this book the graphic novel that started it all has moved up on my to-read list. I can't wait to read the way all of this starts. Here is a brief little overview of the way things are in this world.
The Joker has gotten bored with the way things are in Gotham and travels to Metropolis. Chaos follows and Superman snaps. Batman's greatest fear that one day Superman would loose control has happened. The world and other superheroes have to choose sides. Are they with Superman, or against him?
Batman begins to put his plans in action and this causes tow of the most powerful best friends to be at odds with one another. In this book we have already been through a year of this battle and tearing apart of the world. Batman has been wounded by Superman and is in need of help from those heroes that sided with him. Not all the Bat-family joined Bruce's side. This bothered me a bit but I moved on. One battle has been fought and this is where the pieces are picked up before the next one begins.
I loved this book!!! The story was really good and the artwork was perfect for this book. Each panel is detailed and helps move the story as well as the words do. I was hooked from the very beginning and couldn't put this book down. I read straight through in one sitting. I loved this and can't wait to not only catch up on all that I have missed but to get my hands on the next volume so the story can continue. I give this 5 out of 5 stars on this book and it has become one of my favorite graphic novels.
Thank you again to DC Comics and Netgalley for allowing me to read and review this. I will leave you with one final taste of this book. Some of the best artwork in this book was the cover art for each single issue that was collected here. These are a few of my favorite covers.