Halloween Tree by Ray Bradbury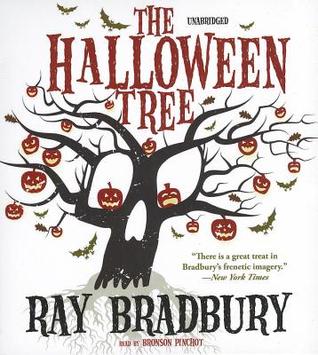 I'm a big fan of Ray Bradbury. My favorites of his are Fahrenheit 451, and Something Wicked This Way Comes. When I saw this available at the library I was so excited to have another Halloween themed book by Bradbury. This one will need another read. There were a few things that I was a little confused on.
The thing I love about Badbury's writing is that it has this timeless feel to it. I picture the scenes in this book like they have walked out of a Norman Rockwell Painting. He does a great job with explaining a scene or setting with amazing detail without being boring or beating you over the head with words. I have read books that get so involved with trying to explain what the grass looks like that I loose interest. Bradbury doesn't have that problem.
This is another book about a group of boys who are out for fun and mischief on Halloween night. Dressed in their best costumes they go house to house trying to get as much candy as possible. They begin there night gathering together to go out as a group but they are missing one of their friends. This is where the mystery begins. Heading to his house the boys arrive to find not a single decoration out and there absent friend isn't even read to go Trick-or-Treating. While waiting for him to get his costume together the boys head to a house they haven't been to before. When they arrive they find a man with a few screws loose and a tree full of Jack-o-Lanterns that light themselves and more on the branches.
This book was great, it really helped get me in the Fall and Halloween spirit. This was a fun story and I am so glad I stumbled on to it. Finally have something that I really enjoyed to add to the RIP challenge. A good while ago I read my fourth book that I pledged to read for this challenge. Now all my entries are just for the fun of it. If you are looking for a quick fun read to remind you of what it is like to be a kid on Halloween this is for you. Even if you are one who hates Halloween you could think of this as an almost cautionary Trick-or-Treating tale. That is why I am giving this 4 out of 5 stars.