The Walking Dead Vol 18: What Comes After by Robert Kirkman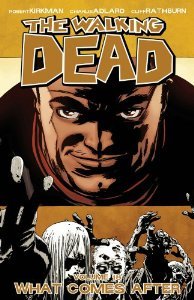 At this point we have met our new villain who has put the community in danger. Rick has already tried to get rid of Negan and his gang of bullies and it didn't work. Rick is given and ultimatum and is forced to take it. We see a defeated and depressed Rick doing anything he can to keep his new home safe. His friends are starting to wonder what happened to their strong leader now that he has given up.

Secrets are running deep in our little group of heroes. Trust issues are popping up everywhere and this book delves into the human aspect to keep the plot going. Not a whole lot happens that is really worth mentioning in this book but it still was better than some of the in between or filler books in this series. We learn more about a neighboring community and there is even more to the character Negan that comes to light in this book.

Negan is one of those characters that is interesting but you just hate more than anything. I hope he gets torn apart by zombies at some point. He is just the most vile of human beings and even then I feel it is a stretch to call this character human. Kirkman did a great job with his character development I just wish there was a more interesting story line.

This one falls in the middle of the road for me, I didn't love it, and I didn't hate it. I am giving this 3 out of 5 stars. One last parting comment about Negan is that I think he is even worse than the Governor who was the big villain in earlier books.