The Walking Dead vol 17: Something to Fear by Robert Kirkman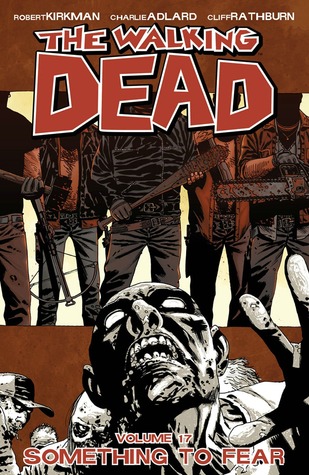 When I though all hope was lost this book finally brought some interest back into the story. There still is a frightening lack of zombies but the plot takes a turn that made this an interesting read. This is the first time since the Governor that Rick and our group have had something really tangible to fear. Sure the zombies are always a constant concern but they know how to kill them and when to run. I mean, the dead walk which makes them fairly easy to run away from.
In this book we meet Negan who is nothing but a bully trying to take advantage of the communities who just can't stand up to that kind of evil. Rick decideds to help out their new friends in the second community and take Negan out. Rick doesn't relize that the threat ahead of him is much larger than he thought. Finally the story picks up and has begun to set up a big battle in the future. It took a little while to get going but about half way through I was really invested in the story. There are some painful scenes in this book that change the course of the story, but that is what really drives this plot.
Just when things were looking bleak for the series in terms of keeping my interest this turned that all around. I ca see where this plot is headed and I am looking forward to what lies ahead in the future. I give this 4 out of 5 stars. Not the best book in the series, but it has brought life back to these books.
I also will be including this review in the R.I.P. challenge. This will be book 2 out of 4 that I have pledged to read for this challenge. I hope to read more than four books because right now all I'm reading are graphic novels. Check out the RIP challenge if you are interested in Horror, Suspense, or Mystery novels then this is the reading challenge for you.