Inferno by Dan Brown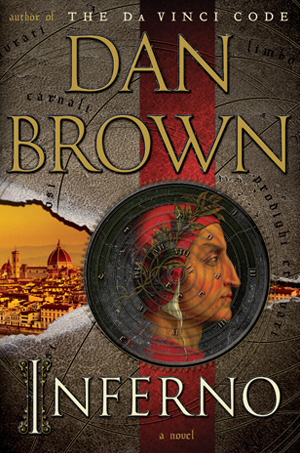 I'm going to be honest. I was not a fan of the Da Vinci Code or Angels and Demons. I'm not a religious man so it wasn't religiously offensive to me I just couldn't get into them. The Robert Langdon series turned around for me when I read Lost Symbol by Dan Brown. I'm fascinated by the Masons and their history even if this book gave a fictitious history. I really liked that book and when I saw this was going to be based on Dante's Inferno I was looking forward to this as well.
This book was really well written. I was hooked very early on and the story never gave up. We start off with a very confused Robert Langdon. He has been shot in the head and now has amnesia. No idea what he has stumbled into and how he ended up in another country. As Robert stumbles onto clues it begins to pan out that he needs to stop a plague. This is a terrifying premise and perfect to read during this time frame. We have stories in the news about those trying to help in Africa being brought home and quarantined because they are infected with Ebola. It is so easy how someone could expose a few to a virus and it would spread worldwide in a few days.

The book is all about one man feeling that the world is over crowded. There are more people than our resources will sustain and eventually we will be the reason for our own extinction. Leaking the virus would quell the population and allow for a new Renaissance. Robert Langdon is now tasked with racing against the clock to stop the virus before it is released but he has no idea where it will be released. Yet another idea that is absolutely terrifying. What if our population is growing to the point where we will eventually surpass our means? I don't agree with the idea of releasing a virus and letting the fittest survive, but this book really made me think about some rather unpleasant topics. I want a world that is rich and safe for my children to grow up in and raise their own kids in.

I love books that really make you think and stimulate my mind. I couldn't put this book down and I really enjoyed it. I would give this 4.5 stars out of 5. I am only going to rate it a 4 for Goodreads, and Amazon because there were a few moments where the plot got a little stale, but they didn't last long. This was a great read and if you are not a fan of the Da Vinci codeand have avoided Dan Brown because of it, I would urge you to give this a try. I didn't like Da Vinci Code but this was really good and just showed how well Dan Brown can write.