The Girl Who Loved Tom Gordon by Stephen King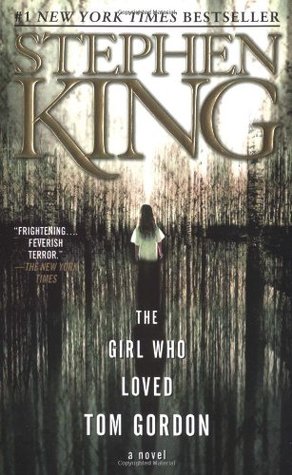 I have been reading a lot of YA right now. Yes it is really just two series so all of the characters are the same. Between The Last Apprentice and the Percy Jackson series I have been getting the two confused at times so I needed to return to the world of grown ups for a little while. What do I do? I picked a book about a nine year old girl lost in the woods. The real reason I picked this book was the fact it was available at the library in audio, and it was short for a King book.
This is a short book for Stephen King, but I honestly think it should have been shorter or at the very least a novella. It seemed to be drawn out and ramble on for me. I guess the idea of why this book seemed so long is to try and put the reader into the shoes of Trisha who is lost in the woods for several days. She wanders away from her mom and brother while walking on a trail. Her mom and brother don't notice because of the constant arguing. There is a small family sub plot that runs through the book but it really is very minor.

I had a hard time getting into this book. The idea of being lost in the woods for days is terrifying, I hate driving somewhere I don't know and that is with GPS. I just didn't feel that terror while I was reading it. King had those elements of being lost and helpless, and there was a good bit of danger in this story. It just seemed a little flat. I also wasn't a huge fan of watching a nine year old slowly slip into madness.

If I was lost in the woods I would spend a good bit of time in the fetal position before I started to form my plans. I would hope that I wouldn't completely loose my hold on reality. In the same aspect Trisha does have some good survivor skills that helps make the story seem realistic. As much as it pains me to say this was kind of a middle of the pack novel. I didn't hate it, but I also wasn't left thinking this was the best thing I've read all year. I'm glad I read it but this will not be a re-read for me. I give this 3 out of 5 stars.