You're Never Weird on the Internet (Almost) by Felicia Day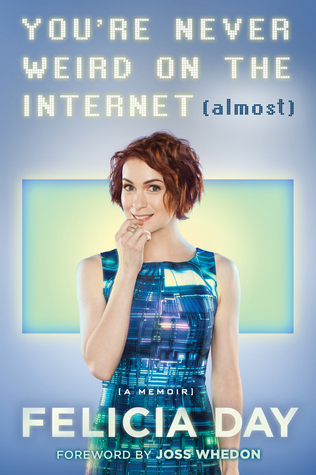 I love Felicia Day, she is really funny and seems so down to earth. I love her story about how she went from a socially awkward child to a socially awkward internet gaming queen/celebrity. I am not one for non-fiction or memoirs but occasionally I find one that peaks my interest. My very first memoir I read was Bruce Campbell's and I loved it. The I read Jackie Chan's and hadn't picked on up for over a decade. Chris Harwick's book,
The Nerdist Way
is less memoir and more self help. That is the first and only self help book I think I will ever read. It was amazing because Chris Hardwick is funny and just an awesome guy but this review is about Felicia Day's book.
When I saw this pop up as suggested reading because I had read Jenny Lawson's two books I jumped at the chance to get this. I got the audio book because these types of books are usually read by the author and that makes the audio so much better than the book. Felicia too the audio one step further and I thank her for this. Most of the memoirs I have read have included pictures which if you listen to the book you just have to hear what they look like. Felicia included a a PDF that I could download so I could see all of the pictures and follow along with the book. It was amazing. I first was introduced to her in Supernatural where she played a computer hacker. Shocker I know, but then I started to find all of these things she has done and I started to like her even more. Now I have to check out her original web series called the Guild.
Her story starts as a kid and all of the challenges she had being home schooled up to her college years which lead to her beginnings in the gaming world. When I was younger I considered myself a gamer but I was a console junkie, I never did online gaming which I guess is sadder because at least on line gaming you talk with other people. I stayed secluded in my room killing zombies and pretending to be James Bond. Goldeneye on Nintendo 64 is still one of my favorite games ever. Felicia Day was an online gamer who played World of Warcraft. It was her obsession and passion for this game that got her to write the web series the Guild which I have yet to see but it is on my to watch list now. From that Felicia became the woman she is today.
Wow, I'm not sure how much of this review was about the book and how much was about me. I guess I got kind of off topic. I really liked this book. It was funny and really interesting. I finished this book in a day and a half because I couldn't stop listening to it. I loved this book and it easily gets 5 out of 5 stars. I highly recommend this to anyone looking for an interesting memoir.