Dresden Files: Down Town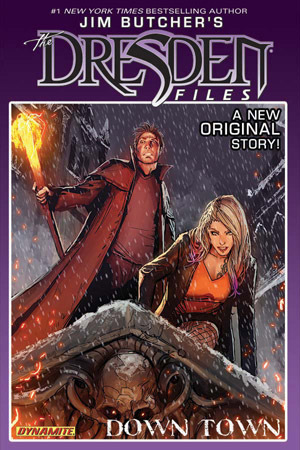 I love these graphic novels. It is so much fun to read a new story by Jim Butcher in the Dresden series without having to wait for the next book. I'm still behind a bit in the series so currently I don't have to wait for the next one, but when I see these on Netgalley for review I always jump at the chance to review it. Thank you Netgalley and Dynamite Comics.
I'm going to try not to spoil anything because my wife reads the Dresden books too and this spoiled a few things for me. Since she also reads my blog I don't want to spoil anything for her. So Harry is a Warden of the White Council of Wizards and has taken on an apprentice. Something is killing people leaving little bits of goo behind and Harry has to figure out what is going on and stop it before more people die.
I love these graphic novels. The art is pretty good and I love seeing my favorite characters out side of my mind. The artist in these books really nailed how I picture the characters so I have no complaints with how they are portrayed. I also like how well these tie into the other books. It really allows for a comprehensive world between the novels and these. There are also things that will have small notes as to which book they are referring to. There are also bonus material at the end of the collection which I enjoy but I geek out about bonus features and early character sketches.
I know I really didn't give you to much about the book but all you need to know is that it is worth the read. The art work is good and very detailed. I loved seeing Undertown and the action scenes are always great. This book is a solid 4 out of 5 stars read. There were a few spots that were kind of slow which made it easy to put down and tough to pick back up at times. That's the only thing that kept this from a full 5 stars.